About Pinnacle Marketing, Inc.
Our Experience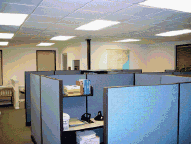 P.M.I. personnel possess a unique combination of marketing & sales experience working with a variety of components, computer peripherals, and sub-systems. In addition, the majority of P.M.I.'s personnel have held key sales & management positions and know how to be held accountable for results. This vast background of experience is especially important to both principals and customers who desire to do business with a no-nonsense manufacturers' representative. We accept the responsibility of being honest with both parties and work diligently to make every sale a win-win-win proposition. Our focus is towards synergistic lines that offer quality, service, and a long term commitment to the marketplace. Our sales people concentrate on our customers' engineering departments to gain acceptance of products and to insure the involvement of our principals in future programs. We rely on our contact with purchasing departments to assure that P.M.I. receives every opportunity for our principals.
Our Thoughts on Distribution
Likewise, distribution plays a very important part in our sales strategy as it adds another avenue of support for our customers. Conversely, distribution offers our principals assurance that all orders, both small & large, are being given equal attention. P.M.I. is fully aware that cumulative small orders through a strong "Disty Program" is big business. We are also in-tune to the consideration that is taking place with today's distributors. As we approach the next millennium the world of distribution is more dynamic than ever. For this reason, we have a full time distributor coordinator on our staff. The charter of this position is to keep our distributors focused on our lines as well as keep the Pinnacle Sales Team alert to the needs of our distributors. In short, we support our distributors and encourage our principals to do the same.
Lead Follow-up
We at P.M.I. also recognize the importance of product advertising to both enhance a company's image and attract new customers and applications. We recognize that an investment in such programs is both expensive and time consuming for our principals. As a result of that recognition, we believe it is paramount to follow-up on those leads generated by that investment. We believe it is equally important to report our findings back to the principal, so that concrete applications can be tracked by the principal for his dollar investment in advertising. Our lead and tracking system called Pin Track has successfully met this challenge.
Conclusion
In summary, the P.M.I. management has worked on both sides of the rep/principal fence. We fully understand and appreciate what a principal requires from a rep and how to deliver the results. Pinnacle Marketing Inc. pledges to professionally represent your company and to enhance your sales position in our territory. We recognize you are "outsourcing" your sales program to us and take this responsibility seriously.