The holidays are for traditions, and on Friday, December 2nd TTI – Raleigh held their annual charity breakfast event.
Once again we were all spoiled with pancakes, sausage, and bacon generously donated to TTI by IHOP. This year had a new twist with their own Barista on site fixing up all manner of Espresso, Cappuccino and Lattes! We shared food, friendship, and laughter.  Together, we collected both coats and canned goods to give hope to those less fortunate than us.  Perry Thornton and Heather Heath attended this year donating canned goods on behalf of Pinnacle Marketing, promptly returning to the office FOB… full of breakfast!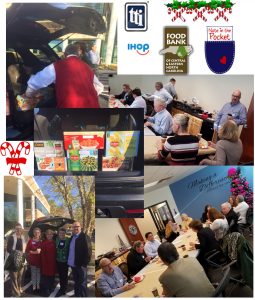 UPDATE: The 2016 event broke previous year records with contributions to the North Carolina Food Bank of Central and Eastern North Carolina, along with A Note in the Pocket. This year the event raised $240 cash and approximately 250 pounds of food to donated to the Food Bank. A Note in the Pocket received donations of $360 cash along with two SUV's of clothing and coats for the children of Wake County.
Below is a little about each charity supported at the event.
Note in the Pocket Mission Statement: We provide clothing to impoverished and homeless children in Wake County. Note In The Pocket believes that it is unacceptable that children are limited in their educational and social development because they do not have appropriate clothes for school. Through our partnerships with schools, agencies, individuals, businesses and foundations, we clothe children with dignity and love.
NC Food Bank: The mission of the Food Bank of Central & Eastern North Carolina is: No One Goes Hungry in Central & Eastern North Carolina. Established in 1980, the Food Bank is a nonprofit organization that has provided food for people at risk of hunger in 34 counties for over 35 years. The Food Bank serves a network of more than 800 partner agencies such as soup kitchens, food pantries, shelters, and programs for children and adults through distribution centers in Durham, Greenville, New Bern, Raleigh, the Sandhills (Southern Pines) and Wilmington. Sadly, food insecurity remains a serious problem in central and eastern North Carolina. In these counties, more than 650,000 people struggle to access nutritious and adequate amounts of food necessary for a healthy life.