E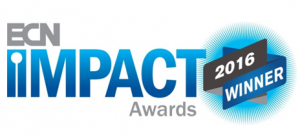 AO Corporation, the expert partner for innovative, intuitive and reliable Human Machine Interfaces (HMI), was recently presented with two 2016 ECN IMPACT Awards. Now in its third year, the ECN Impact Awards recognize top products and services across the design engineering landscape.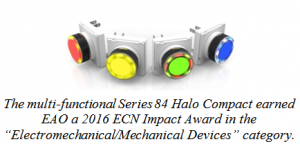 The Series 84 Halo Compact, a unique multi-functional switching element, was victorious in the "Electromechanical/Mechanical Devices" category. Additionally, EAO's HMI Systems solution-focused approach developed to meet the individual needs of its customers from design to production, earned the company the "Special Recognition: Contract Manufacturer Innovation" Award.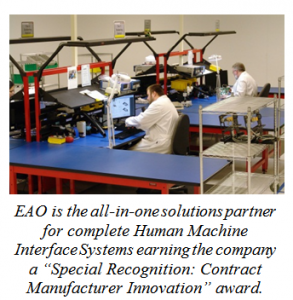 "At EAO, we take pride in our ability to offer the most technologically innovative components while simultaneously serving as an 'all-in-one' solutions partner for complete Human Machine Interface systems – from concept through production," said Lance A. Scott, President, EAO Corporation. "We strive to help every customer enhance profitability, productivity and efficiency while also supporting advanced manufacturing here in North America."
This competition was developed to honor ingenuity and creativity among companies of all sizes and the impact they have ma de on the industry and the lives of engineers. The organizations that displayed excellence in engineering through electronic design and groundbreaking innovation were declared the winners.
Although the IMPACT Awards are relatively new, their lineage can be traced back 60 years through a culmination of Product Technology Awards filled with a rich tradition of highlighting design engineering excellence.